Series:
Black Dagger Brotherhood, Book 9
Format:
Kindle Edition
Release Date:
March 29th 2011
Synopsis:



Few authors give readers such a "powerful rush"* as #1 New York Times bestselling author J.R. Ward does in her phenomenal books of the Black Dagger Brotherhood. Now she returns to that fiercely intoxicating world in a new novel of a woman's journey from terrifying enslavement to an erotic rapture that proves equally dangerous…

Payne, twin sister of Vishous, is cut from the same dark, warrior cloth as her brother: A fighter by nature, and a maverick when it comes to the traditional role of Chosen females, there is no place for her on the Far Side… and no role for her on the front lines of the war, either.

When she suffers a paralyzing injury, human surgeon Dr. Manuel Manello is called in to treat her as only he can- and he soon gets sucked into her dangerous, secret world. Although he never before believed in things that go bump in the night- like vampires- he finds himself more than willing to be seduced by the powerful female who marks both his body and his soul.

As the two find so much more than an erotic connection, the human and vampire worlds collide … just as a centuries old score catches up with Payne and puts both her love and her life in deadly jeopardy.


Links:
Amazon - B&N - Goodreads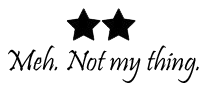 It's funny, because anyone who spoke to me when I first started blogging knows I had tried reading this series before with no luck whatsoever. After a couple paragraphs of
Lover Unleashed
I realized,
this is the book that made me NOT want to even start the series.
I started out of order, go figure. Funnier still, that even after having read the previous books and having a better understanding of who these guys are and what their world is about, I STILL don't like the book and honestly I could have done without reading it.
"I came to you, Jane. Every night this week, I came to you. I didn't want you to be alone. And I didn't want to sleep without you."
I know this is Payne & Manello's book, but in all honesty it felt like Vishous and Jane's book to me. The whole book seemed centered on their relationship and how it was falling apart because V was having coping issues and couldn't seem to be able to talk to Jane about it. I love Vishous, true. He is one of my favorite Brothers and
I love how much of an ass he is sometimes
, and those moments of vulnerability he shows are priceless. I still don't believe he and Jane are a good match, I wasn't thrilled about the outcome of
Lover Unbound
, but if he loves her what can I do? C'est la vie. *shrugs*