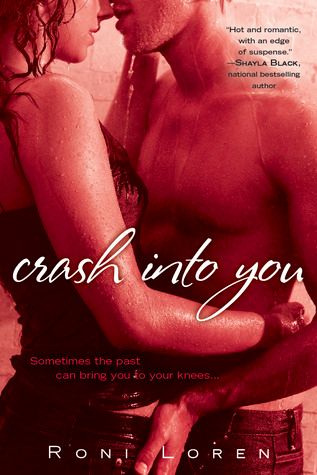 Title: Crash Into You
Author: Roni Loren
Series: Loving on the Edge #1
Publisher: Berkley Heat
Publication Date: January 3, 2012
Links: Goodreads | B&N | Amazon
Synopsis:
Brynn LeBreck has dedicated herself to helping women in crisis, but she never imagined how personal her work would get, or where it would take her. Her younger sister is missing, suspected to be hiding from cops and criminals alike at a highly secretive BDSM retreat-a place where the elite escape to play out their most extreme sexual fantasies. To find her, Brynn must go undercover as a sexual submissive. Unfortunately, The Ranch is invitation only. And the one master who can get her in is from the darkest corner of Brynn's past.

Brynn knows what attorney Reid Jamison is like once stripped of his conservative suit and tie. Years ago she left herself vulnerable only to have him crush her heart. Now she needs him again. Back on top. And he's all too willing to engage. But as their primal desires and old wounds are exposed, the sexual games escalate-and so does the danger. Their hearts aren't the only things at risk. Someone else is watching, playing by his own rules. And his game could be murder.


Review:
I was so in the mood to read some sexy and hot, so I picked up this one after hearing so many great things about the series, but sadly, I was sorely disappointed on several fronts. This review might be all over the place because there're just so many things that bothered me about this book.

First, let's talk about the BDSM aspect. Maybe I was wrong, but I was expecting a lot more BDSM and sexy alpha Dom, but none of that was in this book. The story is told in a Then and Now perspective, switching between them every chapter, which I have no problems with. I actually enjoy knowing the past a lot. But back to BDSM or rather what little of it was in the book, Reid did not come off as a Dom. Half the book is focused on him being ashamed of his needs and desires, which is not attractive in a Dom. I was looking for a Dom who knows what he's doing, but Reid spent most of his time worrying about what other people will think about him due to his background, but come on, grow a pair already! I understood his emotional turmoil, but it just left him very undesirable as a Dom.


Oh, and the worst part, with all of Reid's worrying, the things they did weren't even that kinky! Maybe I have a different view of what is really kinky, because all the books and mainstream media have desensitized me, but all Reid and Brynn did was tying up and a bit of spanking. And anal at the very end of the book, which made it feel like the author just put it there so that there is an anal scene. With an exclusive BDSM club in the picture, the author could've done a lot more to explore the BDSM scene than basic tying and spanking. There weren't even any toys involved despite all the mentions of the various toys available at the club!

I also couldn't connect with our heroine either. She's a counselor for women in crisis, but she's never gotten over her own rape. I have the deepest sympathy for women who have been violated that way and can't imagine how I'd handle it personally, but it is a bit hypocritical of her to advise others when she herself hasn't completely healed. It's like doctors giving useless medication to patients. Also, Brynn herself isn't a submissive. She spent the entire book denying the fact she's truly submissive. She's only submissive because she wants to fulfill Reid's needs *rolls her eyes* Anyway, and what was with the exposure therapy? So to get over her fear, she decides it's a good idea to be helpless in a controlled environment, where people actually won't hurt her even if she's tied up and helpless. Seriously? Even if there's some scientific basis to that, it's like me putting myself in a roomful of zombies to get over my fear of zombies. Uh…NO!
The romance was sweet, but not great. Like I said, Ms. Loren really pulled off the NOW and THEN storyline, something I've always enjoyed. However, it was hard to see where they fell in love. The past storyline moved along without too much detail and suddenly they were in love and then breaking up. Then the other half of the story is built on misunderstandings, which is just so frustrating! I wanted to smack Brynn! Just tell him the truth! If she'd told Reid the truth from the beginning, or even if she just listened to Reid without running off, they would've not wasted ten years hating each other. For a counselor, Brynn's pretty bad at listening to other people.

Despite my above complaints, I did enjoy other aspects of the book, otherwise I wouldn't have finished it. If you like conflicting characters and can overlook my BDSM complaint, then I suggest you give it a try. The suspense plot also drew me in. I never would have guessed the identity of the true villain. If you like your romance books with a bit more hotness than your regular run-of-the-mill romance novel, then this one is for you. However, if you are like me and expect a more drop-you-panties take-control Dom and love scenes hot enough for you to grab your boyfriend/husband/si gnificant other/bob, then go search elsewhere because this book isn't it.