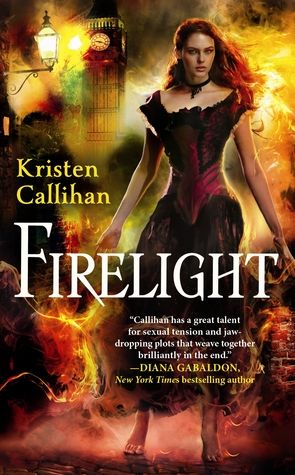 Title: Firelight
Author: Kristen Callihan
Series: Darkest London #1
Publisher: Forever
Publication Date: January 31, 2012
Links: Goodreads | B&N | Amazon
Synopsis:
Once the flames are ignited . . .

Miranda Ellis is a woman tormented. Plagued since birth by a strange and powerful gift, she has spent her entire life struggling to control her exceptional abilities. Yet one innocent but irreversible mistake has left her family's fortune decimated and forced her to wed London's most nefarious nobleman.

They will burn for eternity . . .

Lord Benjamin Archer is no ordinary man. Doomed to hide his disfigured face behind masks, Archer knows it's selfish to take Miranda as his bride. Yet he can't help being drawn to the flame-haired beauty whose touch sparks a passion he hasn't felt in a lifetime. When Archer is accused of a series of gruesome murders, he gives in to the beastly nature he has fought so hard to hide from the world. But the curse that haunts him cannot be denied. Now, to save his soul, Miranda will enter a world of dark magic and darker intrigue. For only she can see the man hiding behind the mask.
Review:
After seeing so many amazing reviews, I had very high expectations for this book. Perhaps because I expected too much, but I didn't like it as much as I thought I would. Oh, it's a good and entertaining read, but it certainly didn't rock my world. It didn't satisfy my craving for historical romance, nor did it satisfy in the paranormal department. In the end, I wished I'd picked a book that hadn't decided to mix its genres.


Miranda Ellis has the gift of fire, but because of this gift/curse, she accidently destroyed her family's fortune and has been paying for it ever since. Miranda is your independent and strong heroine as in any romance novel, but it's the blurb that I find misleading. Miranda is in no way tormented, or plagued by the fire. In fact, her fire power is just a convenient plot device. The fire never actually plagues her. It's not even mentioned unless she's in danger or attempting to use it. At first, she can't control the fire, but by the end, she can suddenly control and call upon it. All of this is quite unbelievable and illogical. Overall, I was quite disappointed with how Miranda's power was handled throughout the story. I wished this element had been better integrated into the story instead of just thrown in whenever the author felt a need for it.


As for our hero, I couldn't connect with him either. It's difficult to speak of Archer without discussing my problem with the general plot. So the author kept Archer's malady a secret until the end. The entire book is Miranda trying to discover Archer's secret, and thus solve the murder. Since I had no idea what was wrong with Archer, it's hard to feel sorry for him. Most of the time I thought he was just being melodramatic about his disfigurement. In addition, the mystery wasn't that interesting when the reader have no idea what's going on. In any good suspense, readers need clues to keep guessing and keep reading, but here, it's just one reveal after another with no way for the reader to be engaged in the mystery, so I didn't really care much for the murders. Also, another blurb mislead - when was Archer accused? Archer was not accused of the murders. No, the ton gossiped about him and he was interrogated, but he was not accused.

Miranda and Archer's romance didn't wow me either. Archer sees Miranda once and decides to marry her. OK, I can accept that. I've read stranger situations. But I didn't really see them together much before real feelings started to develop. A lot of times it was narrated to us what Miranda and Archer did, but not shown. It's also annoying when Archer has 3 names for Miranda. Sometimes he calls her Miranda, other times Miranda Fair, and then Miri! Why can't you just stick to one nickname?? In addition, every time they exchange a few words, Archer feels the need to think about how much he loves Miranda's stubbornness and independence. Yes, she's a stereotypical romance heroine. You don't have to point it out every time she talks. However, regardless of my complaints, there're definitely sweet and funny moments between the couple that made me smile. I enjoyed seeing them together even at times their romance aggravated me.

My favorite part of the book is definitely the ending. When authors save the big reveal at the end, I'm usually disappointed, but not in this case. I would've never in 100 years guessed what was wrong with Archer. It's definitely not what I expected!! The entire story was a bit confusing and the explanation kind of difficult for me to accept, but I still really liked it. This is the point where Miranda and Archer's love for each other really shown through. It was heartbreaking! I went back and read that chapter against just because I loved it so much!! Kudos Ms. Kallihan for writing such an awesome scene!

While the book fell short of my expectations, I still enjoyed it. I'd recommend it if you like your romance with a dark and gritty feel to it, but be ready to be confused through the book, as I was. I will read the next book just because I like Ian a bit more than Archer.