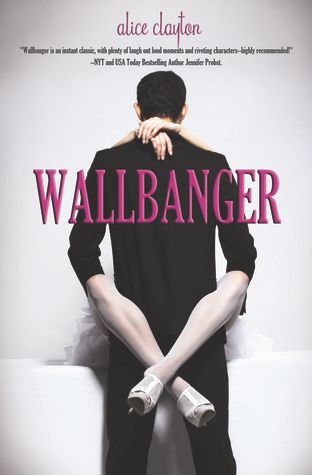 Title: Wallbanger
Author: Alice Clayton
Publisher: Omnific Publishing
Publication Date: November 27, 2012
Synopsis:
Caroline Reynolds has a fantastic new apartment in San Francisco, a KitchenAid mixer, and no O (and we're not talking Oprah here, folks). She has a flourishing design career, an office overlooking the bay, a killer zucchini bread recipe, and no O. She has Clive (the best cat ever), great friends, a great rack, and no O.

Adding insult to O-less, since her move, she has an oversexed neighbor with the loudest late-night wallbanging she's ever heard. Each moan, spank, and–was that a meow?–punctuates the fact that not only is she losing sleep, she still has, yep, you guessed it, no O.

Enter Simon Parker. (No, really, Simon, please enter.) When the wallbanging threatens to literally bounce her out of bed, Caroline, clad in sexual frustration and a pink baby-doll nightie, confronts her heard-but-never-seen neighbor. Their late-night hallway encounter has, well, mixed results. Ahem. With walls this thin, the tension's gonna be thick…

In her third novel, Alice Clayton returns to dish her trademark mix of silly and steamy. Banter, barbs, and strutting pussycats, plus the sexiest apple pie ever made, are dunked in a hot tub and set against the gorgeous San Francisco skyline in this hot and hilarious tale of exasperation at first sight.
Review:
If the title of this book doesn't catch your attention, then its blurb certainly should. I went into this book knowing it's going to be fun, and it did not disappoint at all. Caroline's an interior designer who's just moved into a new apartment. She loved everything about the apartment... until the wallbanging started. It's not just your regular wallbanging, oh no, the wall banged hard enough to have a picture drop on Caroline's head the first night. As if losing sleep wasn't bad enough, Caroline has to be reminded of her lost orgasm, or the O as she's taken to calling it, every time her neighbors began the wallbanging.
Caroline is a hilarious narrator and has some ridiculous ways to describe and looking at things. Sometimes I had to stop and wonder if people actually thought about things that way? But mostly, I just laughed out loud at her antics and descriptions. I'm also so jealous of her baking skills. That woman knows her way around the kitchen, and definitely baking! Despite the usual lighthearted tone of the book, we did get to see a deeper side of Caroline as she slowly fell in love with Simon.
The book couldn't be complete without Simon "Wallbanger" Parker. Gorgeous, sexy, and funny, I don't know how Caroline resisted that long before jumping his bones. Even if he did have a harem, I'd still take him and his wallbanging skills. But it's great to see Simon as more than just the Wallbanger. He's not used to long-term relationships and not looking for one. Instead of judging him for his "harem", we learn that it is what works for him. Even if he didn't end up with Caroline, I still fell in love with him. He's not the usual dark alpha-male I love, but he makes me all warm and tingly inside in a good way and makes me smile in a very dreamy first-love sort of way.
Ms. Clayton definitely knows how to turn up the sexual tension. The instant lust that sprang between these two immediately had me fanning myself, but the best part is the waiting! Simon and Caroline didn't immediately jumped in bed together, no matter how much I wanted them too. Instead, we were subject to their continual flirting! Seriously, I could feel the chemistry and sexual tension between the two. All their flirting? OMG!! I wanted to scream at them to just get it over already! But no, they waited and I had to wait too, but I have to say it was soooo worth the waiting. I just love them two of them together!!
I have so many favorite scenes in this book. All those lunches with her girls where they shoot out gossip and news like spelling bee champions. The first few meetings between Caroline and Simon. Any time Simon go near zuchini bread! And Spain! Oh my God Spain! And the texts! The car ride home from Tahoe!! OK I'm going to stop my list before I ruin the story for the rest of y'all.
One thing I didn't like about the book was the amount of giggling involved. Anytime something funny happened, Caroline and the girls giggled. I had an image of a group of elementary girls giggling in the playground at something silly, and that's how Caroline and her best friends came off sometimes, just a group of flighty girls, but they're not. They are successful women who know what they want, but once the giggling started, my brain just associate them with witless and silly little girls.
But you can ignore my little nitpicky gripe and GO READ THIS NOW! (you know this is serious when I bring out all caps!) Unless you hate books that make you laugh out loud (why are you here?) or don't want your cheeks or stomach to hurt from too much smiling/laughing, you NEED to read this book!