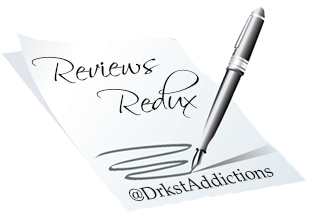 Hi everyone!! Welcome to Reviews Redux! Before I joined Neyra as the co-blogger to Darkest Addictions, I had my own book blog. Now that I've moved here, I don't want my old reviews to get lost in the vast Internet world. That's what this feature is for. Every week, I'll move 1 to 2 old reviews from my previous blog to this one and delete them from my old blog. I'm not moving all the reviews, just some of the most important ones, about 20-30 in total. If you've read them before, great! If you haven't, I hope you find some new gems in those older books I've read!
Title: Lothaire
Author: Kresley Cole
Series: Immortals after Dark #12
Publisher: Simon & Schuster
Publication Date: January 10, 2012
Links: Goodreads | B&N | Amazon
Synopsis: ALL FEAR THE ENEMY OF OLD

Driven by his insatiable need for revenge, Lothaire, the Lore's most ruthless vampire, plots to seize the Horde's crown. But bloodlust and torture have left him on the brink of madness—until he finds Elizabeth Peirce, the key to his victory. He captures the unique young mortal, intending to offer up her very soul in exchange for power, yet Elizabeth soothes his tormented mind and awakens within him emotions Lothaire believed he could no longer experience.

A DEADLY FORCE DWELLS WITHIN HER

Growing up in desperate poverty, Ellie Peirce yearned for a better life, never imagining she'd be convicted of murder—or that an evil immortal would abduct her from death row. But Lothaire is no savior, as he himself plans to sacrifice Ellie in one month's time. And yet the vampire seems to ache for her touch, showering her with wealth and sexual pleasure. In a bid to save her soul, Ellie surrenders her body to the wicked vampire, while vowing to protect her heart.

CENTURIES OF COLD INDIFFERENCE SHATTERED
Elizabeth tempts Lothaire beyond reason, as only his fated mate could. As the month draws to a close, he must choose between a millennia-old blood vendetta and his irresistible prisoner. Will Lothaire succumb to the miseries of his past . . . or risk everything for a future with her?

Review:
Omg omg omg! I love this book! If you haven't read this series, go get it now! This series just keeps getting better and better! I've been waiting for this book since the previous one came out last year!

We've all seen Lothaire the Enemy of Old in the previous books. He's an arrogant, lethal, handsome, and evil vampire who'd do anything to come out on top, including switching alliances whenever he felt like it and engineering incidents where others can owe him a blood debt. I love how his character was built up from the beginning of the series, from pure evil, to that gray character, who you know is evil but you're still wondering what his true agenda is.


Now we get to find out.
We find out about the horrendous childhood Lothaire had and the events that happened later to shape into the man he is. And can I say, I'm surprised Lothaire hadn't gone insane already, though he's tittering at the edge. He's the perfect tortured hero, though he doesn't act like it, but he's also the badboy we all love in our romances, ready to be reformed, or not. And all these years, for eternity, he'd waited for his Bride, who will become his queen. (I just have a thing for this waiting for eternity idea. Every times this happens I'm a goner.) Now that he found her, nothing could stop them from being together.


There's just this one problem.

His Bride is possessed by a goddess. Or rather, there're two souls in the body of his Bride, and Lothaire has to get rid of one.
Elizabeth Peirce, or Ellie, had a hard life, living in the mountains of Appalachia trying to scrape together enough money to pay off her family's mortgage all her life. Now she's got a goddess of death in her body, taking her over and going on a killing spray. Just when she was going to end it, the red-eyed demon appears forcing her to live by threatening her family.


Oh God, there're not enough words to describe how amazing this book was. I love Ellie. She's perfect for Lothaire. Lothaire, who was used to figuring out everyone's moves around him one step ahead, couldn't predict anything Ellie did. It was a fresh change of pace. Yeah, that element doesn't sound new, but the many fights between Lothaire and Ellie, the fact Ellie won't give up, drove up the tension higher and higher.

Lothaire could never accept that he'd been mated to a human, so it was a very interesting journey to see him fall hard, and I mean, hard, for Ellie, a human he thinks is beneath him in every way. So you can imagine how amazing Ellie must be to capture a heart of someone as cold and calculating as Lothaire. She's the strong heroine we all like and love, the one that can take on Lothaire the Enemy of Old.

Like I said, it was a hard fall for Lothaire. Since the tension and antagonism between the two were so well done, it is so satisfying when they accept their feelings for each other. I have to say the book was kind of long though. Things just kept popping up that prevented our hero and heroine from reaching their HEA, but I'm not complaining. I'm so sad this is over. I wish to read more and more about Lothaire and Ellie. I want to know how their lives is progressing, because I know they're the kind of couple where every day is truly a new day, bringing unexpected surprises and hardships.

I do have some misgivings about some parts and the violence, but overall, the rest of the story is so fantastic that I can overlook those. Imho, Ellie didn't give up that easily. The Saroya story line was kind of too quick and just fell flat. I was totally expecting more. And oh Nix, poor Nix. So many things come to light in this book. I want Nix to find her mate as well. And new characters are introduced, so I can't wait to see if they get their books as well. I also love that this series isn't purely about characters who're on the same side, so we see some of previous characters on the other side, which is awesome.

I hope I don't have to wait another year for the next book (crosses fingers).

Even though this is only January, this'll definitely be one of my favorite books for the year with favorite hero and favorite heroine!
Edit: This is definitely one of my faves of 2012!! And now we know the next book is about another MacRieve!! *squeee* I'm usually a vampire fan, but for this series, I'm totally a lykae girl!!