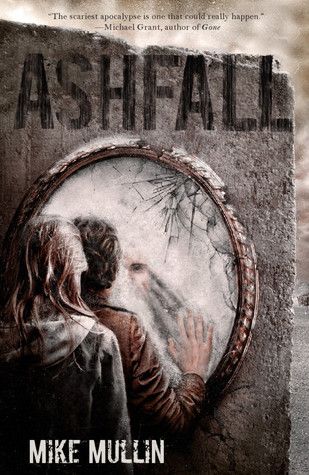 Title:
Ashfall
Author: Mike Mullin
Series: Ashfall #1
Publisher: Tanglewood Press
Publication Date: October 11, 2011
Links: Goodreads | B&N | Amazon
Synopsis:
Many visitors to Yellowstone National Park don't realize that the boiling hot springs and spraying geysers are caused by an underlying supervolcano, so large that the caldera can only be seen by plane or satellite. And by some scientific measurements, it could be overdue for an eruption.

For Alex, being left alone for the weekend means having the freedom to play computer games and hang out with his friends without hassle from his mother. Then the Yellowstone supervolcano erupts, plunging his hometown into a nightmare of darkness, ash, and violence. Alex begins a harrowing trek to seach for his family and finds help in Darla, a travel partner he meets along the way. Together they must find the strength and skills to survive and outlast an epic disaster.
Review:
I have one word to describe this book: DEPRESSING!!!


It was the worst mistake to read this book during Christmas break. I mean, what was I thinking? All my Christmas cheer got sucked out by this book. By all accounts, it's not a bad book. It's actually pretty good. I mean, I've read plenty of dystopian/post-apocalyptic books, but this one stands out in that it's a book about the direct aftermath of an event that destroyed the world. The events in the book don't happen 100 years later where a new government has been set up. No, this book takes place in the weeks after the explosion of the supervolcano in Yellowstone. The volcanic eruption caused ash to fall over the United States, covering the States in a layer of ash for miles and caused a volcanic winter to occur.
On the day of eruption, Alex was home alone after his family left to visit his uncle. He sets out on a journey to find his family. I really liked Alex and his voice as he detailed his journey and everything he sees. Alex, being such a normal American, is what makes this story so touching and depressing, because everything felt so real, like it can actually happen one day. The Alex at the end of the book has seen a lot of the world and is so different from the spoiled teenager boy at the beginning of the book.
But more vivid is the image painted of the other people around Alex who has to deal with the same events. Some people completely go off the deep end while other people struggle to survive the best they can. Alex and Darla are fall into the latter category. Sometimes their ingenuity surprises me. I loved Darla's character. She's a bit rough around the edges, but she's so smart, especially with tools and machinery. I loved seeing the relationship form between Alex and Darla as they go through each obstacle together. It's heartwarming to see that even in such bleak conditions, people can still love like that.
What truly make this book depressing are the people who worry more about money. I'd like to think that if similar events happen in this book, people will rather feed the tens of thousands of starving people in refugee camps than worry about how much money they can make off their grain. I'd also like to point out that once again, the government is inept at helping its people. For once I'd like to see a competent government.
Anyway, lessons I learned from reading this book: 1) don't read depressing books during Christmas, and 2) Go live on a farm because I'm more likely to survive the apocalypse. Would I read the second book? Probably not for a long while. Maybe when I've forgotten just how depressing this book is. Do I recommend this book? Oh definitely.