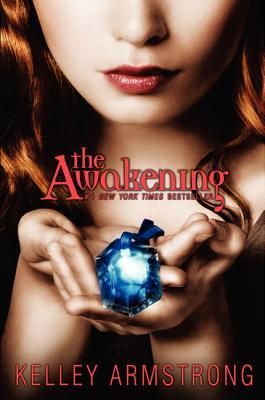 Title: The Awakening
Author: Kelley Armstrong
Series: Darkest Powers #2
Publisher: HarperCollins
Publication Date: April 28, 2009
Links: Goodreads | B&N | Amazon
Warning: Review contains spoilers for the previous books in the series.
Synopsis:
If you had met me a few weeks ago, you probably would have described me as an average teenage girl — someone normal. Now my life has changed forever and I'm as far away from normal as it gets. I'm a living science experiment — not only can I see ghosts, but I was genetically altered by a sinister organization call the Edison Group. What does that mean? For starters. I'm a teenage necromancer whose powers are out of control: I raise the dead without even trying. Trust me, that is not a power you want to have. Ever.

Now I'm running for my life with three of my supernatural friends - a charming sorcerer, a cynical werewolf, and a disgruntled witch - and we have to find someone who can help us before the Edison Group finds us first. Or die trying.
Review:
The Awakening starts exactly where the first book left off. Chloe is once again in the hands of the Edison Group, but she's no longer a clueless girl like the beginning of the series. While she still has a lot of questions, she's still plotting her escape and looking for answers. A lot of things come into light, about the Edison Group, but there're still enough questions left unanswered that makes a reader wonder just what Ms. Armstrong has up in her sleeves.
This book is full of non-stop action. Even before Chloe escaped from the Edison Group, one thing happens after another with just enough time in between for me to absorb all the information that's just been revealed. Once Chloe escaped, Ms. Armstrong kept me on my toes by guessing what would happen next. When will Chloe and the gang be safe? Will they be safe here? And for how long before they have to run again?


I really enjoyed seeing more of Chloe and Derek together. Derek isn't the most likeable person, but I enjoyed learning more and more about him. He's not a bad person and I feel awful about how other people treat him just because of his looks. I like Simon too, but his character isn't developed as well. Mostly he came off as the person who's the happy go lucky guy that understands the girl better than his jerk of a brother. Lastly, there's Tori. I'm not really surprised that she escaped with Chloe, but I wanted to see more to her character than just bickering with Chloe. So basically, even though she's useful, she's still as annoying as she is in the first book.

There're still a bunch of questions left unanswered at the end of this book. In addition, I wished the book focused a bit more on Chloe's powers, but it didn't. There're a few bits where Chloe used her powers, but there really was no development in that part of the storyline. Chloe is supposed to be really powerful, but she still hasn't learned how to use her powers, so they're more of a hindrance and side story to the main plot of escaping from the bad guys.

I devoured this book from beginning to end. I also love that the book isn't that long, or maybe because they're just so action-packed that the pages just flew by. Even though I haven't read the last book in the trilogy yet, I still highly recommend this series to any lover of young adult paranormal suspense. I can't wait to have all the questions answered!!