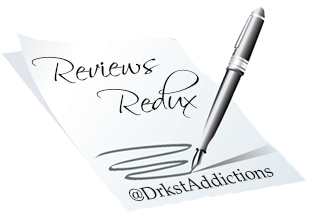 Hi everyone!! Welcome to Reviews Redux! Before I joined Neyra as the co-blogger to Darkest Addictions, I had my own book blog. Now that I've moved here, I don't want my old reviews to get lost in the vast Internet world. That's what this feature is for. Every week, I'll move 1 to 2 old reviews from my previous blog to this one and delete them from my old blog. I'm not moving all the reviews, just some of the most important ones, about 20-30 in total. If you've read them before, great! If you haven't, I hope you find some new gems in those older books I've read!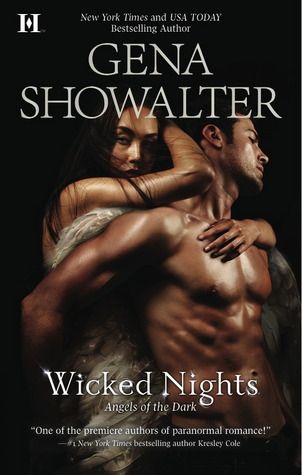 Title: Wicked Nights
Author: Gena Showalter
Series: Angels of the Dark #1
ublisher: HQN Books
Publication Date: June 26, 2012
*Copy was provided by publisher for an honest review.
Synopsis:


Leader of the most powerful army in the heavens, Zacharel has been deemed nearly too dangerous, too ruthless--and if he isn't careful, he'll lose his wings. But this warrior with a heart of ice will not be deterred from his missions at any cost...until a vulnerable human tempts him with a carnal pleasure he's never known before.



Accused of a crime she did not commit, Annabelle Miller has spent four years in an institution for the criminally insane. Demons track her every move, and their king will stop at nothing to have her. Zacharel is her only hope for survival, but is the brutal angel with a touch as hot as hell her salvation--or her ultimate damnation?
Review:
So unlike more avid LOTU fans, I was not a Zacharel fan. Compared with the hot-blooded lords who fought hard and lived hard, Zacharel was too standoffish to me. But when Gena Showalter came out with this series, I got really curious. What can make the cold and emotionless angle fall in love? What's his story? I wanted to know! Besides, anything related to LOTU I will read, I can say that!

Annabelle is just a normal human before the brutal murder of her parents by a demon. Blamed for these murders, she's been locked up in a mental institution because no one believes the demons she can see. Demons are drawn to her, until she is saved by Zacharel. Now, to save Annabelle, they must kill the demon behind it all.

Despite her hard life being mistreated by humans and demons both alike, Annabelle is a strong and courageous woman who isn't cowed by anything, including the angel who can easily kill her. I loved her banter with Zacharel, saying whatever comes to her mind. Her sarcasm made me laugh. The way she stumps Zacharel and confuses him is simply priceless.

As for Zacharel, he's about to lose his wings. In his quest to slay demons, he cares not for the human collateral in his path. At his Deity's displeasure, he's placed in charge of a group of tormented and wild angels just like himself, ones who are about to fall from heaven.

Seeing into Zacharel's past was nothing I'd ever prepared for. The loss of his twin had hardened Zacharel into the relentless warrior, but this warrior finally meets his match. The best part is that Zacharel isn't humorless like I'd believed. Even though we see a light-hearted part of him, below that he's still that sexy and dominant male who will not share his woman, one who will protect his woman at all cost.

The book takes a while to build up the sexual tension between Zacharel and Annabelle, but I savored every word of it like it's the last piece of a chocolate mousse. When they finally came together, their passion burned up my book, figuratively of course. Zacharel and Annabelle are well-suited for one another. Him-a powerful leader of a group of rogue angels, and her-a woman strong enough to take him on.

The ending came as a shock. I cried a little for Zacharel and the choice he had to make. Oh I blamed the Deity along with him for the unfairness of life, but he finally had the HEA he deserves.

The book also has the some of the other angels' POV. While they didn't pique my interest as much as the lords did in the Darkest Night, I still enjoyed their appearances. The best part is seeing these individual rogue angels slowly binding together and becoming a team, even if they are still at risk of losing their wings.

Wicked Nights can be read alone without reading LOTU first. Gena Showalter has started another fantastic series about a group of sexy and seductive angels and the women who will be their salvation. I cannot wait for the next book to satisfy my craving for more of these dark and dangerous angels.